Straighten Your Smile With Clear Aligners in Florence
Everyone wants a beautiful, straight smile. But not everyone wants to see improvements by compromising their smile's appearance and their lifestyle in the process. That's why we offer Invisalign, which uses clear plastic aligners instead of metal and wires to straighten teeth.

Call (843) 588-1919 to schedule a consultation with one of our dentists. They'll carefully assess your issues and help you determine if our clear aligner solutions will provide the best results for your smile. Ask about our special offer for New patients get $100 off any treatment over $200*.
Invisalign Treatment Offers Many Benefits
If the idea of a mouthful of metal has kept you from getting aligner treatment, now you can finally get a beautifully straight smile with no one around you even noticing. Since Invisalign aligners are made of clear plastic, most people won't see them in your mouth.
Another big Invisalign benefit is the removable aligners. You won't have to avoid certain treats because of worries about food getting caught in metal. It's also easy to keep teeth clean when you can take out your aligners to brush and floss. We offer several kinds of Invisalign treatment:
Invisalign Teen, which includes features designed just for teenagers that parents appreciate, including a feature that allows parents to monitor how many hours a day their child is wearing their aligners
Invisalign Lite, which straightens teeth faster than traditional Invisalign, in about seven months
Invisalign Express, which corrects cosmetic issues in as few as three months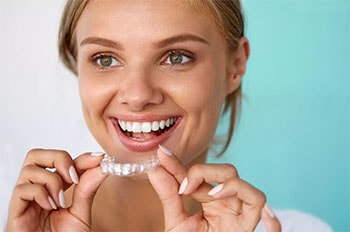 You can even preview what your new smile will look like using the Invisalign Outcome Simulator!
Regardless of what type of Invisalign you choose, you'll need to commit to wearing the aligners for the recommended 20-22 hours a day for best results. We'll also supply you with retainers afterward to maintain your straight smile in the long term.
Interested in clear aligners in Florence? Call (843) 588-1919 to schedule a consultation, or request an appointment online.