Sedation Dentistry in Florence Takes the Stress Out of Dentist Visits
When visiting our office even with all of these amenities, some people can't relax at the dentist. They may even avoid the dentist and all routine care, staying away unless they experience a serious dental emergency. If this describes you, sedation dentistry in Florence can help!

Our safe dental sedation will:
Help you overcome your dental anxiety so you can get the high-quality dental treatment you deserve
Keep you relaxed during lengthy procedures
Allow us to perform several procedures in a single appointment
Make you less conscious of sounds, sights, and sensations that bother you
To discuss dental sedation with one of our doctors, call Advanced Dental Center at (843) 588-1919.
Enjoy Many Benefits of Dental Sedation
We offer safe oral conscious sedation. This will keep you calm throughout your visit. We'll closely monitor you throughout your treatment.
Even if you're not anxious about your treatment, our dental relaxation methods work well in other situations, such as these:
You have a strong gag reflex.
You experience difficulty getting numb.
You need complicated and/or lengthy dental procedures.
You need oral surgery.
You want to undergo multiple procedures in a single visit.
Arrive & Stay Relaxed With Oral Conscious Sedation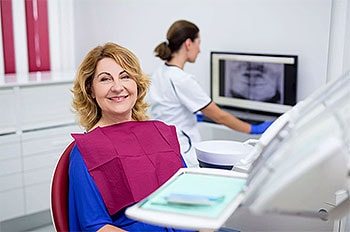 Your oral conscious dental sedation will be a prescription pill you'll take before your appointment. You'll arrive at our office already relaxed and will stay that way throughout your appointment. We suggest fasting for eight hours beforehand, including water. You will also need to arrange for a ride to and from our office.
There are many advantages of oral sedation:
You take the pill at home, which gives you more control over the process. It also avoids the use of a needle.
You arrive already relaxed, so you won't need to wait at the office for the sedative to take effect.
You'll be relaxed but remain aware, so you can easily respond to our questions or instructions.
The sedative effect lasts around two hours.
The medications we use are regulated by the FDA and have been in use for years, so there is little risk of negative side effects.
Our Experienced Dentists & Caring Staff Ease Your Dental Anxiety
Whether or not you choose a sedation method, our skilled dentists and caring staff will ease your dental anxiety. Our dentists have more than 200 years of combined experience, so they can handle just about any dental situation. Some members of our support team have worked in dentistry for 20-plus years. They also use patient-friendly technology like our intraoral camera, which allows you to see exactly what is going on in your mouth. After her attention, you'll leave our office more relaxed than when you came in!
Enjoy a stress-free visit with sedation dentistry in Florence. Call Advanced Dental Center at (843) 588-1919 today or contact us online.