Transform Your Smile With a Full-Mouth Reconstruction in Florence
Many dental treatments can transform your smile, but few improvements are as dramatic as a full-mouth reconstruction in Florence. In addition to changing the look of your smile, total tooth replacement can:
Make it easier for you to enjoy crisp, healthy foods like vegetables and fruit
Help maintain your bone structure so your jaw will stay strong
Keep your adjacent teeth from shifting and causing dental problems
If you want to replace missing teeth, call Advanced Dental Center at (843) 588-1919. Our team offers many options for full-mouth restoration, including dentures, dental bridges, and dental implants.
Begin Your Full-Mouth Restoration With an Expert Consultation
Because you have so many tooth replacement options, a consultation with one of our dentists is a good first step to a total smile replacement. Your doctor will evaluate your condition using advanced dental technology, like our 3D imaging system, then explain all your possible reconstructive options. They'll be happy to address any questions or concerns you have.
Among the factors your doctor will review while creating your treatment plan:
How many teeth you need to replace
Condition of your existing teeth
Condition of your jawbone
Your medical history and health
Your expectations regarding your options
Your budget
Enjoy Many Choices for Full-Mouth Rehabilitation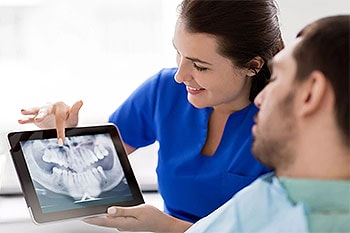 We offer multiple options to completely repair your smile. You may even decide to use a combination of dental restorations. For example, you can attach dental crowns, dental bridges, or dentures to dental implants.
Your options may include:
Dental Implants – When used with a dental restoration, implants function and feel like your own teeth and look great, too.
Dental Crowns – You can replace a single missing tooth with a crown attached to an implant. Dental crowns can also be used to support a dental bridge.
Dental Bridges – A bridge can fill in a gap left by a single missing tooth or multiple missing teeth. For added stability, a bridge can be attached to dental implants.
Dentures – Depending on how many teeth you need to replace, you can opt for partial dentures or full dentures.
To transform your smile with full-mouth reconstruction in Florence, call Advanced Dental Center at (843) 588-1919, or use our online form to request a consultation.